My favorite comics, updated automatically!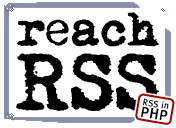 Welcome to ReachRSS!
As you can see, there's not much here at the moment. The first thing you will probably want to do is to add some channels, so you can start viewing your news instead of this welcome screen. To do that you will need to login to the Admin Area here.
If you need help getting started with ReachRSS, there are several resources available. The Admin Area instructions will give you some insight on how the admin area of ReachRSS works, and the ReachRSS Template Guide will help you build your own templates to make ReachRSS look exactly the way you want it to. If you're wanting to tap into ReachRSS using PHP, you'll want to read the ReachRSS Programming Guide shows you how to use ReachRSS as a PHP Class in your own applications.
If you get really stuck, and none of the documents above helps, we offer free support to registered users. You can register your copy of ReachRSS here, and once done you can email your question to support@reachrss.com and we'll help you out (we even offer free installation services for registered users) Registration also removes the "Powered by ReachRSS" icon requirement (below), supports an unlimited number of channels (the unregistered version limits you to 3 at any one time), and provides additional features like keyword scanning and alternate layouts. The registration price has been kept low so that everyone can afford it - if you find ReachRSS useful, please consider it!
Thank you for using ReachRSS!
http://www.reachrss.com/
Get your own Comic Alert! for free!
Receive updates in your RSS reader or Email client